Free Student Loan Webinars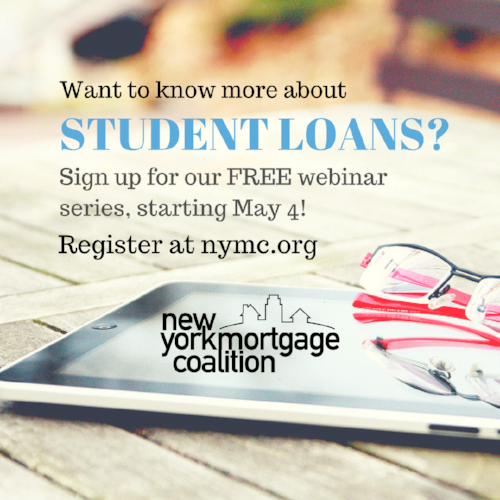 College is supposed to be an uplifting  experience and whether you choose a junior college or a university maneuvering the financial aid maze can be overwhelming. This four part webinar series takes a look at  the many options for paying for the cost of education.
One of the largest burdens faced by many consumers is their student loan debt. Nearly 70% of those graduating with a bachelor's degree leave school owing more than  $28,110 in debt.  In this series of webinars we will also discuss the options if your loan is in default.
If your student loan debt is preventing you from realizing your dreams, this webinar series is for you! 
   WHEN:  To meet your work schedule, this 4-part series is scheduled on Thursdays from 6:00 p.m. to 7:30 p.m. EST. (please adjust for your local time zone)
   HOW:     Registration is simple, go to:  https://attendee.gotowebinar.com/register/3821519069769996803   
  Session 1: May 4, 2017 - Know Before You Owe
This class provides an overview of the student loan landscape.  You will learn how to evaluate your options and how to prepare for the cost of funding your college education.
Session 2: May 18, 2017 - Understanding the costs of the Private Student and Federal Loans
Private and Federal student loans are a financing option for higher education.  This webinar will explain both loan options, the approval process and repayment requirements.
Session 3: May 25, 2017 - Student Loan Repayment Options
Lenders offer a variety of plans for repaying a student loan -- some are quite flexible. The plans available depends on the types of loan you have. In this webinar we will introduce you to new tools and option and identify which option best fits your financial situation.
Session 4: June 1, 2017 - Preparing for Homeownership
While often portrayed as more independent and less willing to settle down,  the majority of millennials want to buy a house, according to a survey of 12,000 people conducted by finance giant Fannie Mae. This webinar will take a look at the steps needed to maneuver the mortgage maze to achieve homeownership.
In partnership with the New York Mortgage Coalition.
Made possible through funding provided by CHASE.