The following 9 non-profit agencies are members of the New York Mortgage Coalition and receive direct funding from NYMC to support their financial education and homeownership counseling programs:
IMPACCT Brooklyn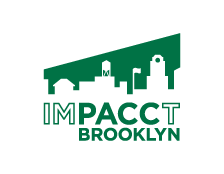 1000 Dean Street, Suite 420
Brooklyn, NY 11238
Email: Pat_Julien@prattarea.org
Phone: 718-783-3549
Languages: English
Website: http://www.impacctbrooklyn.org
Programs and Services
Workshops which guide attendees step-by-step towards home ownership
Access to lenders offering below-market rate loan products, direct grants and other programs
Mortgage and down-payment grant packaging
Foreclosure prevention counseling
Outreach and education for those targeted by predatory lenders
Financial education workshops
Counseling for debt management and savings plans
Mission
IMPACCT Brooklyn is a community development corporation that contributes to the development of the good community through three major strategies:
First, we seek to preserve and create affordable housing, because fulfilling the fundamental right to affordable housing is a cornerstone for establishing human well-being, preventing displacement, and enhancing economic, racial, and cultural diversity.
Second, we seek to promote and support the development of small businesses and vibrant commercial corridors, because such economic development is an engine of opportunity that can create jobs for community residents, bring better services to our neighborhoods, and otherwise enhance our community as a place to live.
Third, we seek to inform, to organize, and to galvanize members of the community, because residents, acting together toward common objectives, can oppose unnecessary displacement, demand accountability from private developers and public officials, and otherwise contribute to the greater good.