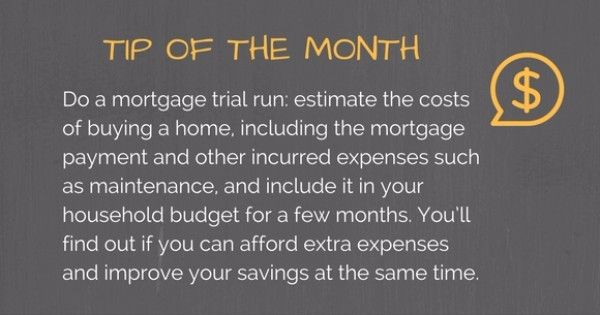 Know how much house you can afford. Get pre-qualified and look for homes within your budget so you don't commit to a large mortgage that you can't afford.
Tip of the Month Sponsored by Santander Bank
A Loan Officer can "pre-qualify" you so you know how much you can borrow. However, a "pre-approval" is a commitment to lend, and signifies that your loan has been reviewed and approved by the lender, which gives you more buying power. 
Tip of the Month Sponsored by People's United Bank
 
Know Your Credit: Research where you can obtain a copy of your credit report for free. Review the report for any inaccuracies and be sure that all payments are made on time.  When applying for a mortgage, a strong payment history is very important in the home buying process.
- Brian Haag, First Vice President, Residential Mortgage Department, Valley National Bank
Tip of the Month Sponsored by Valley National Bank
BUY OR LEASE AN AUTO: Any increase in your monthly expenses can affect your credit score and your ability to qualify for a mortgage. So hold off on buying a new car or furniture even if you are tempted by a super sale
Tip of the Month Sponsored by People's United Bank
 
However much you choose to save, it's key to start saving as soon as you can. You will get into the habit and your money will have more time to grow.  Consider saving a portion of your tax refund. Ask a loan counselor about Lending Circles and Homebuyer Savings Programs.
Tip provided by New York Mortgage Coalition
Tip of the Month Sponsored by HSBC Bank USA., N.A.