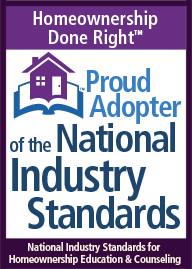 FOR IMMEDIATE RELEASE
November 5th, 2013
Contact: Rebecca Senn, 212-742-0762 ex 1
New York Mortgage Coalition Adopts National Industry Standards for Homeownership Counseling
Comprehensive Standards Support "Homeownership Done Right®"
New York, NY –With mortgage rates and housing prices at long-time lows, many consumers and industry experts consider this to be a good time to buy a home. The process is complicated, however, and potential buyers may benefit from the assistance of a housing counseling agency. With so many to choose from, it's difficult to know which ones to trust.
The National Industry Standards for Homeownership Education and Counseling can help make that decision easier. These Standards hold local nonprofit counseling agencies to a high standard of excellence, ensuring that consumers are provided the most consistent and critical information, advice and guidance.
Here in New York, the New York Mortgage Coalition has adopted the Standards for Homeownership Counseling. "Homeownership counseling is crucial to successful long-term homeownership," said Ken Inadomi, Executive Director at the New York Mortgage Coalition. "At NYMC, we have over 20 highly trained nonprofit housing counselors who work one-on-one with aspiring New York homeowners to help them determine whether they are ready for homeownership, how much home they can afford, and which mortgage loans are right for them."
The Standards were developed by the Advisory Council for the National Industry Standards for Homeownership Education and Counseling. The Advisory Council is comprised of leading housing industry representatives including the U.S. Department of Housing and Urban Development (HUD), working together to provide a way for counseling organizations to demonstrate accountability and commitment; an approach known as "Homeownership Done Right." Michael Haley of Minnesota Housing and Chairman of the Council noted that the National Industry Standards protect the best interests of the consumer. "The ultimate beneficiaries are the homeowners that receive these services and become better equipped to enjoy successful, sustainable homeownership," he said.
The New York Mortgage Coalition's pre-purchase homeownership counseling program gives potential homeowners access to 11 nonprofit, HUD-Approved housing counseling agencies and lenders that offer competitive, fixed-rate mortgages which may include closing cost grants and downpayment assistance subsidies. Through adoption of the National Industry Standards, NYMC is committed to ensuring the highest quality of homeownership counseling.
For more information about homeownership education and counseling available at New York Mortgage Coalition, please contact Rebecca Senn, 212-742-0762 ex 1, Rebecca.s@nymc.org, or visit our web site, www.nymc.org. To learn more about the National Industry Standards for Homeownership Education and Counseling, visit www.homeownershipstandards.org.