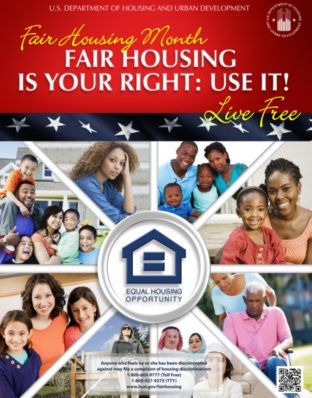 The Fair Housing Act, enacted on April 11, 1968 as part of the Civil Rights Act of 1968, prohibits discrimination in the sale, rental and financing of housing based on race, religion, national origin, gender, disability, and whether or not you have children. The law's passage came a week after the April 4, 1968 assassination of Rev. Dr. Martin Luther King Jr. In memory of Dr. King and to recognize the passage of the Act, the Department of Housing and Urban Development (HUD) has declared April to be Fair Housing Month.
In 2014, Fair Housing Month's theme is "Fair Housing is Your Right: Use It!" Throughout April, HUD will highlight the persistent problem of housing discrimination in the United States.
This year's commemoration was launched at a screening of the film "A Matter of Place," which was underwritten by a grant provided under HUD's Fair Housing Initiative Program. The film profiles three personal stories of housing discrimination in New York City based on race, sexual orientation, and source of income. The film can be viewed on Vimeo.
At the event, HUD Secretary Shaun Donovan said, "This month is an opportunity to recommit to the principle that fair housing is an essential part of everything we do; every grant we make; every building we build; and every community we work with." HUD Acting FHEO Assistant Secretary Bryan Greene said, "Fair Housing Month is an opportunity for all of us to reflect on just how far we've come to make our housing more equitable and how far we still have to go to end housing discrimination."
In addition to the legal protections provided under the Fair Housing Act, some states and municipalities prohibit housing discrimination against sexual orientation, gender identity, and source of income. HUD published new regulations in 2012 to ensure that the Department's core housing programs are open to all eligible persons, regardless of their sexual orientation or gender identity.
HUD has brochures in multiple languages on fair housing and housing discrimination.
If you are being discriminated against in housing, visit www.hud.gov/fairhousing or call 1-800-669-9777 (English/Español) or 1-800-927-9275 (TTY).