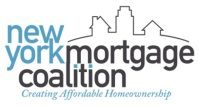 Is your new year's resolution to become a first-time homeowner? Get started on the right foot with events from New York Mortgage Coalition members.
CDC of Long Island
CDC of Long Island is accepting applications for new homes in Middle Island, North Amityville, andWyandanch in Suffolk County. Prospective buyers of these 3-bedroom, 1 1/2 bathroom affordable homes will need to meet eligibility criteria and are required to receive homeownership education and training. For more information visit http://www.cdcli.org/our-programs/real-estate-development or emailnewhome@cdcli.org.
Chhaya
Chhaya is holding their Sixth Annual Home Buyer Fair on Saturday, January 31 from 12:30-5:30 PM at PS 69, 7702 37th Avenue, Jackson Heights, Queens. Meet with lenders and industry experts and learn more about the home buying process, down payment assistance programs, mortgage products, affordable housing listings and application process, housing discrimination and fair housing laws. This free community event includes children's activities, refreshments, and raffle prizes.
For more information, visit the event's Facebook page. To RSVP, register through this form.
Neighbors Helping Neighbors
NHN's first two-day homebuyer seminar of 2015 will be held on January 17 and 24 at 9:30 AM – 1:30 PM at 621 DeGraw Street, Brooklyn.. Registration is $25. Please submit a registration form before attending. For more information, email homeownership@fifthave.org.
Pratt Area Community Council
PACC's Fast-Track First-Time Homebuyer Winter Workshop will be held on January 13-15 from 6:00-9:00 PM in the Community Room at 226 Lefferts Place, Brooklyn. Registration is $40 for PACC members and $50 for non-members.
Subjects covered in the workshop include:
Workshop 1: Role of the Attorney, Credit and Saving for a Home Purchase, Estate Planning & Home Inspection.
Workshop 2: Energy Conservation, Home Inspector, Realtor, Landlord Tenant, Foreclosure Prevention/Post Purchase.
Workshop 3: Home Insurance, Applying for a Home Loan Purchase,Grants and Forgivable Loans
To register, call 718-783-3549 x 314. See the event flyer for more details.
Please check our events calendar, Facebook, and Twitter for more updates on our members' events.