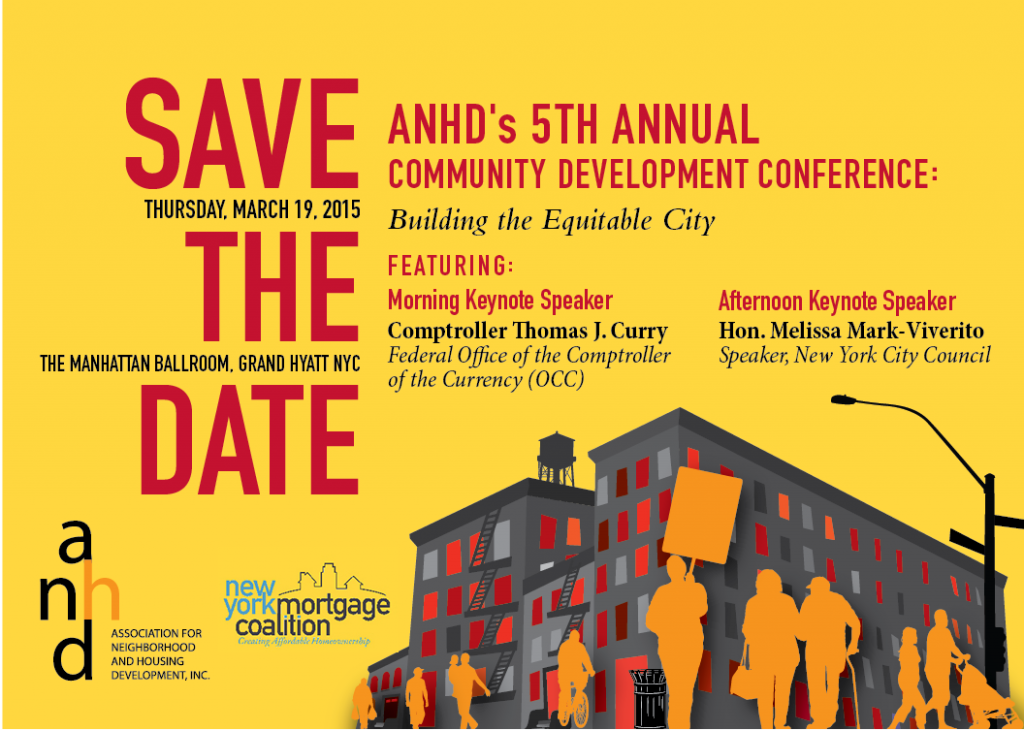 ANHD Conference
Save-the-Date-w-melissa-+-nymc
The New York Mortgage Coalition will present the homeownership programming track of ANHD's 5th Annual Community Development Conference on March 19, 2015. Panel will be presented on online home buyer education, the opportunities and obstacles facing co-op and condo buyers in New York City, and Mayor de Blasio's housing plan and affordable homeownership. For more information, click here.
Community Development Corporation of Long Island
Community Development Corporation of Long Island's Annual Lenders Forum will be held on March 11, 2015 from 8:30 am to 11:30 am at 100 Motor Parkway, Lower Level, Hauppauge, NY 11778. The conference theme is "The Changing Landscape of Affordable Homeownership: A Multi-Dimensional View." New York Mortgage Coalition executive director Ken Inadomi will moderate the plenary panel. Panelists include:
Anthony Mancusi, M & T Bank
Robert McCool, Neighbors Helping Neighbors
Sarah Edelman, Center for American Progress
Mary Alice Ruppert, Coach Realtors
Howard Morris, Rogers & Taylor Appraisal Agency
Breakout sessions will also be held on first-time homebuyer opportunities and home rehabilitation opportunities.The event is sponsored by M&T Bank.
Community Development Corporation of Long Island and Conifer Realty have begun taking applications for the rental homes for Wincoram Commons in Coram, NY. A lottery will be held on March 19th to select applicants for the initial 98 one, two and three bedroom apartments. Once the development is fully completed later this year, Wincoram Commons will feature 176 apartments, as well 13,300 square feet of commercial space. Click here for more information and click here for the application.
Harlem Congregations for Community Improvement
HCCI's March homebuyer education class will be held on March 21, 2015 from 9:00 am to 5:30 pm at Muriel Petioni Plaza, 203 West 146th St., NYC 10039 (Bet. Frederick Douglass Blvd & Adam Clayton Powell Blvd). The curriculum includes: an overview of the home buying process, managing your money; credit & debt management, mortgage products, grants, foreclosure prevention; shopping for the right home, guarding against predatory lending & identity theft, home Inspection; and homeowner's insurance, the mortgage process, fair housing, the legal side of the home buyer process and wrap-up. Registration is $20 and seating is limited. To register or for more information, call Dr. Charles Butler (212) 281-4887 ext 231 or Mr. Willy Ramos (212) 281-4887 ext 206.
Housing Action Council
Housing_Expo_Flyer_for_3.14.15_-_English_(Final)
The Fair & Affordable Housing Expo 2015 will be held on Saturday, March 14, from 11:00 am to 4:00 pm at the Westchester County Center, 198 Central Avenue, White Plains, NY 10606. Participants can attend seminars on fair and affordable housing and rental counseling, as well as meet with counselors, realtors, lenders and other professionals throughout the day
HAC_52_Washington_Ave
Applications for The Washington Avenue Condominium on 52 Washington Ave, Hastings on Hudson, NY are due on March 20. Applications should be delivered by mail or in person to Housing Action Council at 55 South Broadway, Tarrytown, NY 10591. A brochure is available in English and Spanish. The application is available in English and Spanish at http://www.housingactioncouncil.org/.
Neighbors Helping Neighbors
Neighbors Helping Neighbors' March first-time homebuyer seminar will be held on March 14 and 21, 2015, from 9:30 am to 1:30 pm. To RSVP, print the regisration form and return it to Neighbors Helping Neighbors' office along with $25 per person. After the seminar one-on-one counseling appointments will be scheduled to help participants with next steps.
Pratt Area Community Council
PACC's Fast-Track First-Time Homebuyer Spring Workshop will be held on March 10, 11, and 12, 2015, from 6:00 to 9:00 pm in PACC's Community Room at 226 Lefferts Place, Brooklyn, NY.Registration is $40 for PACC members and $50 for non-members. To register, call 718-783-3549 x 314 or dial 0. The workshop is sponsored by Chase and funded through the New York State Attorney General Homeownership Protection Program. Click here to view a flyer.
PACC is hosting free tax preparation by Community Tax Aid on March 7, 21, and 28, 2015 at their Community Room at 226 Lefferts Place, Brooklyn. To qualify your income must be less than or equal to $25,000 if you are an individual OR less than or equal to $50,000 for all others. Click here to view a flyer.
PACCResourceDay
PACC is holding a Housing Resource Day on Saturday, March 21 from 10:00 am to 2:00 pm at Brooklyn College Student Center, on E 27th St and Campus Road 2nd floor. The event will have information on affordable housing, foreclosure prevention, grant programs, loan modifications, tenant protection rights, and more. New York State Assembly Member Rodneyse Bichotte, representing the 42nd Assembly District, will be a special guest speaker. Contact charisse_smith@prattarea.org for more information.