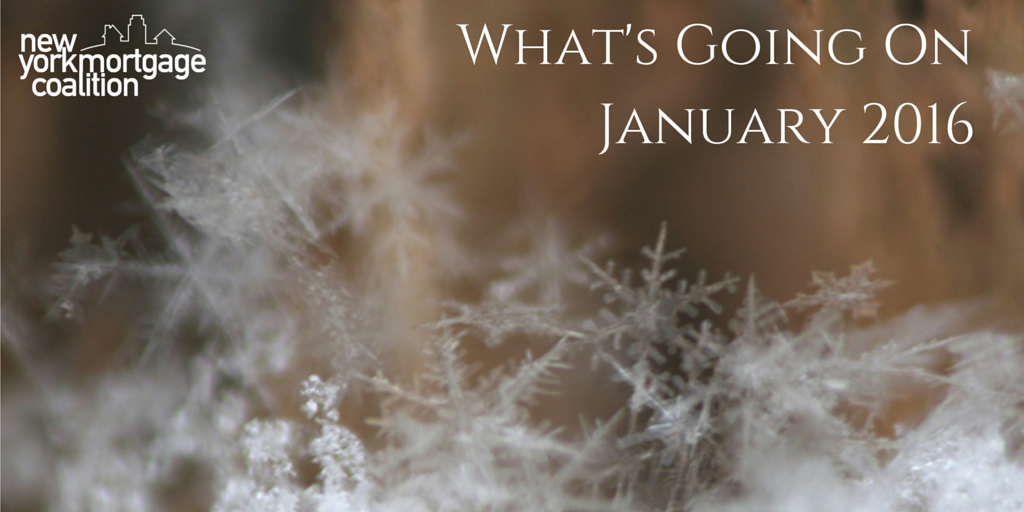 Is your new year's resolution to finally be done with renting and become a homeowner? Start off 2016 on the right foot with these events held by members of the New York Mortgage Coalition.
Asian Americans for Equality (AAFE)
AAFE will hold a first-time homebuyer orientation workshop every Wednesday from 3:00pm-5:00pm, at both their Manhattan and Queens office locations. Walk-ins are accepted, so no prior appointment is necessary! Stop by and learn about the home buying process. Contact Eddie Wong via email (eddie_wong@aafecdf.org) or phone (212-964-2288 ext. 2132) for more information.
Cypress Hills Local Development Corporation
The Cypress Hills Local Development Corporation will be holding free tenant counseling sessions every Tuesday from 2:00pm-5:00pm at 2966 Fulton Avenue (between Cleveland and Elton), Brooklyn, NY. The counseling sessions will provide Section 8 re-certification help, one-on-one eviction prevention support, discussions on tenant's rights with attorney Lee McRae, and more. For more information, contact the organization via email (webmaster@cypresshills.org) or phone (718-647-2800).
IMPACCT Brooklyn
It's a busy month for IMPACCT Brooklyn!
Tenant help events will be held on the first and third Saturdays of the month (the 2nd and 16th) from 10:00am-1:00pm. In addition, a legal clinic will be held on Wednesday January 6th from 6:00pm-8:00pm, providing the opportunity to speak with a lawyer regarding upcoming or potential housing court cases. Anyone who can't make these scheduled events can still walk in at any time between 10:00am-3:00pm each Wednesday and Friday of the month for general tenant counseling. No appointment is necessary! All of these tenant help events will be held at 1124 Fulton Street, between Classon and Franklin Avenues.
Events will also be held at the Community Room at 226 Lefferts Place at the corner of Franklin Avenue in Bed Stuy. On January 21st, IMPACCT's monthly Tenant's Rights Workshop and Legal Clinic will provide renters another opportunity to meet with lawyers and receive free legal counsel.
To finish off the month, IMPACCT will again use the Community Room to hold a free, four night financial course covering everything from basic budgeting to savings investment. The course will run from 6:30pm-8:30pm, each night from Monday January 25th-Thursday January 28th. To sign up for the financial course, please register ahead of time via email (charrisse_smith@prattarea.org) or phone (718-783-3549 ext.315).
All IMPACCT events require a prior appointment, barring the exception of the Wednesday and Friday walk-in hours. For location, appointments, or further information, call 718-522-2613 x032.
Harlem Congregations for Community Improvement (HCCI)
The Harlem Congregations for Community Improvement will be holding a weekly Homebuyer Education Seminar each Thursday from 6:30pm-9:30pm at Dr. Muriel Petioni Plaza, 203 West 146th Street, New York, NY 10039. These seminars will help potential first-time homebuyers to start saving wisely, and will walk through the steps of purchasing and financing a home. A registration form is available online at https://hcci.wufoo.com/forms/q1y2szkj0579a20/. For further information, contact 212-281-4887.