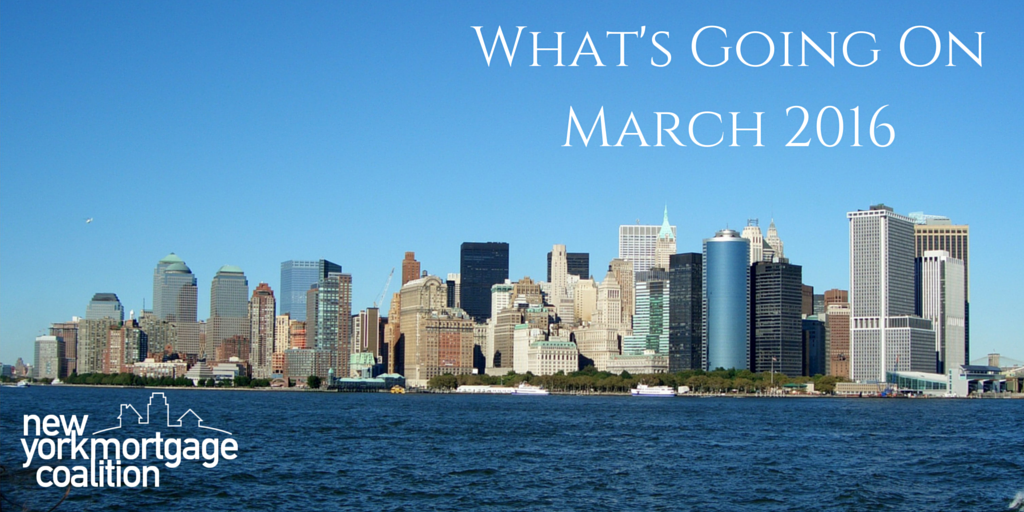 It might not feel like it quite yet, but spring is almost here! Of course that means blossoming flowers and outdoors fun are all right around the corner … but did you know spring is also the busiest time of year in the real estate market? More houses are sold and bought in the spring than any other season. Check out some of these events held by NYMC members and find out if spring is the right time for you to finally become a homeowner.
Asian Americans for Equality (AAFE)
AAFE will hold a first-time homebuyer orientation workshop every Wednesday from 3:00pm-5:00pm, at both their Manhattan and Queens office locations. Walk-ins are accepted, so no prior appointment is necessary! Stop by and learn about the home buying process. Contact Eddie Wong via email (eddie_wong@aafecdf.org) or phone (212-964-2288 ext. 2132) for more information.
Cypress Hills Local Development Corporation
The Cypress Hills Local Development Corporation will be holding free tenant counseling sessions every Tuesday from 2:00pm-5:00pm at 2966 Fulton Avenue (between Cleveland and Elton), Brooklyn, NY. The counseling sessions will provide Section 8 re-certification help, one-on-one eviction prevention support, discussions on tenant's rights with attorney Lee McRae, and more. For more information, contact the organization via email (webmaster@cypresshills.org) or phone (718-647-2800).
Harlem Congregations for Community Improvement (HCCI)
HCCI will be holding a homebuyer education seminar series throughout the month of March. The four-session seminar will cover a broad range of topics including money management, shopping for a home, understanding credit, and how to apply for a mortgage loan. In addition, the series will be available in both English and Spanish! The English sessions will be held on each Thursday of the month starting on the 10th, and the Spanish sessions will be held on the last two Tuesdays and Wednesdays of the month: the 22nd, 23rd, 29th, and 30th. All sessions will be held from 6:30pm-9:30pm at Dr. Muriel Petioni Plaza, 203 West 146th street, New York, NY 10039. Those interested can register online at https://hcci.wufoo.com/forms/q1y2szkj0579a20/.
Housing Action Council
Housing Action Council will hold its 2016 annual Fair & Affordable Housing Expo on Saturday, March 12 from 11am-4pm at the Westchester County Center, 198 Central Avenue, White Plains, NY. Admission is free, and participants can attend seminars as well as meet with counselors, realtors, lenders, and other professionals throughout the day. Featured workshops include a 1pm seminar on Fair & Affordable Housing and a 2pm seminar on Rental Housing.
IMPACCT Brooklyn
IMPACCT Brooklyn will hold its monthly legal clinic on Wednesday March 2nd from 6:00pm-8:00pm, providing the opportunity to speak with a lawyer regarding upcoming or potential housing court cases. In addition, tenant help events will be held on the first and third Saturdays of the month: the 5th and 19th, respectively. Each tenant help event runs from 10:00am-1:00pm, and supplies general advice for renters. Anyone who can't make these scheduled events can still walk in at any time between 10:00am-3:00pm each Wednesday and Friday of the month for general tenant counseling. No appointment is necessary! All of these events will be held at 1124 Fulton Street, between Classon and Franklin Avenues.
Events will also be held at the Community Room at 226 Lefferts Place at the corner of Franklin Avenue in Bed Stuy. On Thursday March 17th, IMPACCT's monthly Tenant's Rights Workshop and Legal Clinic will provide renters another opportunity to meet with lawyers and receive free legal counsel. An appointment is necessary to meet one-on-one with a lawyer. In addition, free tax prep sessions will be held each Saturday of the month except for the 12th, from 10am to 1pm. Individuals making less than $25,000/year, or all others making less than $55,000/year, can have their 2016 tax forms prepared for free!
All IMPACCT events require a prior appointment, barring the exception of the Wednesday and Friday walk-in hours and the free tax prep Saturdays. For location, appointments, or further information, call 718-522-2613 x032 or visit the website at http://pacc.publishpath.com/events.
NEIGHBORS HELPING NEIGHBORS (NHN)
Neighbors Helping Neighbors will be holding a two-session homebuyer seminar on the last two Saturdays of the month: March 19th and 26th. The seminar will cover a range of important topics for first-time homebuyers, including tips on when to buy and how to save up. One-on-one counseling appointments can be scheduled after the seminar to help out with the next steps on the path to purchasing a home. Each session will run from 9:30 AM-1:30 PM at the NHN offices, located at 621 DeGraw Street, Brooklyn, NY 11217.
The two-session seminar costs $40, and must be signed up for in advance. A sign-up form is available on http://nhnhome.org/, which must be printed out and mailed or brought to the office in person at least a week in advance of the first session. For further questions, NHN can be contacted at 718-237-2017.