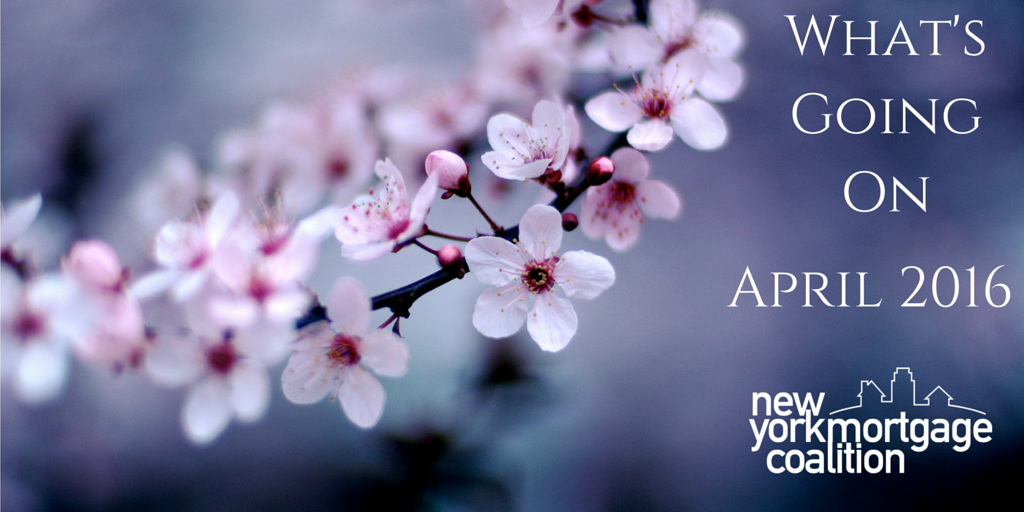 Spring is finally here! It's the perfect time for new beginnings, so why not consider upgrading from your shoebox-sized 5th floor walk-up? Homeownership is more affordable than you might think. Check out some of these events held by NYMC members and find out if spring is the right time for you to finally become a homeowner.
1199SEIU Homeownership Resource Fair
NYMC and 1199SEIU Benefit & Pension Funds have worked together to bring you a Homeownership Resource Fair this Saturday, April 16th. The fair will provide valuable information on both homebuying and homeowning from numerous professionals, including mortgage lenders, certified homeownership counselors, home inspectors, attorneys, and more! These professionals will be sharing their expertise on all steps of becoming a homeowner, from initial budgeting and credit issues to down payment and closing cost assistance. Help will also be available for current homeowners looking to secure home improvement loans or refinance their mortgages. The fair is free for 199SEIU members.
The Homeownership Resource Fair will be held at 330 West 42nd Street, 9th Floor (Breakroom), New York, NY 10036 from 10am-4pm. Registration begins at 9:30am. For further questions, contact 1199SEIU directly by calling (646) 473-6484 or emailing them at homemortgage@1199funds.org.
Chhaya's 7th Annual Homebuyer Fair
For the seventh year in a row, Chhaya CDC will be holding a Homebuyer Fair to help potential homeowners begin the process of purchasing their first home. Lenders and industry experts will be available to share their knowledge on down payment assistance programs, mortgage products, affordable housing application processes, housing laws, and more! A special panel will be held at 2:30 to go through many of the important basics of the homebuying process, but experts will be available throughout the day to answer your questions. Current homeowners should also consider stopping by to learn about securing construction and renovation grants for their properties.
The Homebuyer Fair will be held on Saturday, April 9 from 12:30pm-5:00pm in the P.S. 69 Cafeteria at 77-02 37th Avenue, Jackson Heights, NY 11372. Feel free to bring the whole family, as fun activities for children, refreshments, and raffle prizes will all be available! For any further information regarding the fair, contact Chhaya at 718-478-3848.
Asian Americans for Equality (AAFE)
AAFE will hold a first-time homebuyer orientation workshop every Wednesday from 3:00pm-5:00pm, at both their Manhattan and Queens office locations. Walk-ins are accepted, so no prior appointment is necessary! Stop by and learn about the home buying process. Contact Eddie Wong via email (eddie_wong@aafecdf.org) or phone (212-964-2288 ext. 2132) for more information.
Community Development Corporation of Long Island (CDCLI)
CDC Long Island will be holding two First Time Home Buyer Orientation Sessions this month. These free sessions will provide potential homebuyers with the valuable opportunity to learn more about CDCLI's programs and to schedule a one-on-one meeting with a certified Housing Educator. The sessions will be held in both Nassau and Suffolk counties to accommodate as many people as possible. The Nassau session will be held on Thursday, April 14th at 333 North Main Street Freeport, NY 11520. The Suffolk session will be held on Tuesday, April 19th at 2100 Middle Country Road Centereach, NY 11720. Both sessions will be held from 6:30pm-8:30pm.
CDCLI will also hold a four session Financial Fitness Health and Wealth program at its Suffolk location this month, across April 11th, 13th, 18th, and 20th. The program, which costs $25 per person, aims to help each individual plan their financial future and begin taking the steps necessary to achive their goals. The classes conclude with the opportunity to sign up for further one-on-one counseling through the CDCLI. Sign up is available online: http://www.cdcli.org/our-programs/homeownership-center/financial-fitness-health-and-wealth. (Don't worry Nassau residents! This 4 session program will run at the Nassau location next month.)
For further questions, contact the Nassau office at (516) 867-7727 or the Suffolk office at (631) 471-1215. Register for either session at http://www.cdcli.org/our-programs/homeownership-center/first-time-home-buyers.
Chhaya
In addition to their annual Homebuyer Fair on Saturday, April 9th, Chhaya will continue its weekly Financial Education Series throughout the month of April. The series will provide information on varied topics including establishing a budget, saving for the future, avoiding fraud and scams, managing debts, building your credit score, and much more! Each week's session has a different topic. This month, the topics will be Basics of Banking on April 7th, Immigrant Workers' Rights on April 14th, Budgets and Savings on April 21st, and Consumer Rights on April 28th. All sessions in this series will take place from 6:00pm-8:00pm each Thursday night.
Chhaya will also be hosting a free General Legal Clinic on Wednesday April 13th from 5:00pm-7:00pm, and a free Energy Efficiency Workshop on Thursday April 14th from 5:30pm-7:00pm. Both events will provide helpful information from professionals looking to save you money.
All of these events will be held at ChhayaA's offices at 37-43 77th Street, 2nd Floor, Jackson Heights, NY 11372. To schedule an appointment or to ask for more information, contact William Spisak at 718-478-3848. For more information regarding the Energy Efficiency Workshop in particular, contact Silky Misra at 718-478-3848, ext. 25 or email her at silky@chhayacdc.org.
Lastly, renters can find help through Chhaya as well. A Renters Rights and Benefits Workshop Tuesday April 19th from 6:00pm-8:00pm at the Chhaya offices. To schedule an appointment for this particular workshop, contact Rasel Rahman at 718-478-3848 ext. 23 or email him at rasel@chhaya.org.
Cypress Hills Local Development Corporation
The Cypress Hills Local Development Corporation will be holding free tenant counseling sessions every Tuesday from 2:00pm-5:00pm at 2966 Fulton Avenue (between Cleveland and Elton), Brooklyn, NY. The counseling sessions will provide Section 8 re-certification help, one-on-one eviction prevention support, discussions on tenant's rights with attorney Lee McRae, and more. For more information, contact the organization via email (webmaster@cypresshills.org) or phone (718-647-2800).
Harlem Congregations for Community Improvement (HCCI)
On Thursday April 21st, HCCI will be holding its 30th anniversary "Let Us Break Bread Together" Awards Gala and Dinner. This very special event will celebrate 30 years of HCCI's role in revitalizing Harlem, and honor some of the wonderful people who have helped make it happen throughout the years. The night will start with a cocktail hour at 6:00pm, followed by the dinner and awards ceremony at 7:00pm. The gala will be held at the Marina del Rey catering hall at 1 Marina Dr, Bronx, NY 10465. Seats start at $500, and can be purchased online at https://hcci.ticketleap.com/hcci-30th-anniversary-let-us-break-bread-together-awards-dinner/dates/Apr-21-2016_at_0600PM.
Housing Action Council
This month the Housing Action Council will be holding a workshop on The Financial Aspects of Home Ownership. HAC's experts will walk through the financial considerations potential home owners must make before they even begin the process of looking for a home. This workshop is the first in a three-part series which runs monthly. Attending each of the three different workshops is necessary for enrollment in HAC's First Home Club. The workshops can be attended in any order, but of course it makes the most sense to start with Workshop 1 which covers the beginning steps of the homebuying process.
The workshop will be held on April 20th at 55 South Broadway, 2nd Floor Tarrytown, NY 10591, from 6:30pm-9:00pm. Enrollment is limited, so register ahead of time! For further information or registration, call 914-332-4144 or email hac@affordablehomes.org.
Long Island Housing Partnership
LIHP offers one-on-one first-time homebuyer counseling every weekday this month. Appointments are available Monday to Friday, at 10 am, 1 pm and 3 pm, and generally take between one to two hours. These counseling appointments are available in both English and Spanish, as well as in more than 150 other languages upon request. (These appointments may require more time to schedule.) If you would like an appointment, please call the Long Island Housing Partnership at 631-435-4710.
IMPACCT Brooklyn
Do you need to get your credit in order? IMPACCT Brooklyn will be holding a four-day free personal finance course on April 4, 5, 6, and 7, from 6:30 to 8:30 pm at 1000 Dean Street, Suite 420. Highlights include: managing your money; budgeting and banking; investments, tax reductions, and retirement; basics of borrowing and preventing identity theft; and credit history, using credit wisely, and increasing your credit score. Free individual credit and investment counseling is also available.
IMPACCT Brooklyn will be holding the New Beginnings Awards Dinner on Tuesday, April 19th. The event will honor community development leaders whose work has reflected IMPACCT's mission to foster a strong, diverse local community through affordable housing. All proceeds from the night will go towards funding IMPACCT's programs and services. The event will be held at The Green Building at 452 Union Street, Brooklyn, NY 11231, from 6:00pm-9:00pm. Tickets start at $175, and can be purchased online: https://www.nycharities.org/Events/EventLevels.aspx?ETID=8856. For further questions, contact Ade Omotade at 718-522-2613 x028 or ade_omotade@impacctbk.org.
A full listing of IMPACCT Brooklyn's events can be found at http://pacc.publishpath.com/events.
NEIGHBORS HELPING NEIGHBORS (NHN)
Neighbors Helping Neighbors will be holding a two-session homebuyer seminar across two Saturdays this month: April 16th and 23rd. The seminar will cover a range of important topics for first-time homebuyers, including tips on when to buy and how to save up. One-on-one counseling appointments can be scheduled after the seminar to help out with the next steps on the path to purchasing a home. Each session will run from 9:30 AM-1:30 PM at the NHN offices, located at 621 DeGraw Street, Brooklyn, NY 11217.
The two-session seminar costs $40, and must be signed up for in advance. A sign-up form is available on http://nhnhome.org/, which must be printed out and mailed or brought to the office in person at least a week in advance of the first session. For further questions, NHN can be contacted at 718-237-2017.