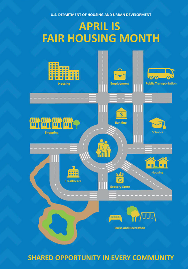 Almost 50 years ago, the Fair Housing Act was passed as part of the monumental Civil Rights Act of 1968. The main goal of the act has been to protect both buyers and renters from seller or landlord discrimination in the housing market. People of all races, creeds, and national origins are protected under the Fair Housing Act, as well as all genders, people with disabilities, and families with children according to expanded legislation. The U.S. Department of Housing and Urban Development, better known as HUD, is dedicated to guaranteeing fair housing opportunities for all, a goal which is celebrated every April with Fair Housing Month!
Fair Housing Month is a reminder for us all to stay committed to the goals and intentions behind the Fair Housing Act. Fair housing is about much more than just the physical dwellings we inhabit. It's about creating healthy, diverse communities where everyone has access to educational and economic opportunities. Ending housing discrimination and fostering strong communities are always important goals to strive for, but Fair Housing Month is the perfect time to rededicate ourselves to this mission.
To spread this message in 2016, HUD has just launched a new campaign to support their Affirmatively Furthering Fair Housing Initiative. The campaign involves PSAs on TV and in print, online videos, and social media outreach to enhance awareness of fair housing rights and make clear the importance of ending housing discrimination once and for all. This campaign will run throughout the duration of the year, but it starts here in Fair Housing Month 2016. Read more at http://portal.hud.gov/hudportal/HUD?src=/press/press_releases_media_advisories/2016/HUDNo_16-041
Ending housing discrimination is a huge task, but HUD is not alone in their mission. As HUD-approved housing counseling agencies, New York Mortgage Coalition and its 11 member community groups are committed to affirmatively furthering fair housing.