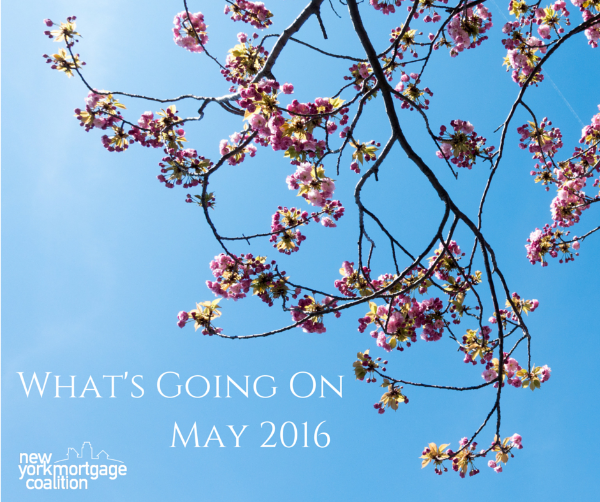 The weather is finally heating up a bit! Enjoy it while it lasts, because it won't be long before your central air breaks down on a 90 degree day and your landlord is nowhere to be found. Wouldn't you like to be in control of your own living space? Homeownership is more affordable than you might think. Check out some of these events held by NYMC members and find out if homeownership is right for you. You could beat the heat this summer in your own cool house!
Asian Americans for Equality (AAFE)
AAFE will hold a first-time homebuyer orientation workshop every Wednesday from 3:00pm-5:00pm, at both their Manhattan and Queens office locations. Walk-ins are accepted, so no prior appointment is necessary! Stop by and learn about the home buying process. Contact Eddie Wong via email (eddie_wong@aafecdf.org) or phone (212-964-2288 ext. 2132) for more information.
Community Development Corporation of Long Island (CDCLI)
CDC Long Island will be holding a First Time Home Buyer Orientation Sessions early this month. This free session will provide potential homebuyers with the valuable opportunity to learn more about CDCLI's programs and to schedule a one-on-one meeting with a certified Housing Educator. The Orientation event will be held on Tuesday, May 3rd at 2100 Middle Country Road Centereach, NY 11720, from 6:30pm-8:30pm.
CDCLI will also hold a four session Financial Fitness Health and Wealth program at its Nassau location this month, across May 10th, 12th, 24th, and 26th. The program, which costs $25 per person, aims to help each individual plan their financial future and begin taking the steps necessary to achive their goals. The classes conclude with the opportunity to sign up for further one-on-one counseling through the CDCLI. Sign up is available online:http://www.cdcli.org/our-programs/homeownership-center/financial-fitness-health-and-wealth.
For further questions, contact the Nassau office at (516) 867-7727 or the Suffolk office at (631) 471-1215. Register for either session at http://www.cdcli.org/our-programs/homeownership-center/first-time-home-buyers.
Chhaya CDC
Chhaya will continue its weekly Financial Education Series into the month of May. The series provides information on varied topics including establishing a budget, saving for the future, avoiding fraud and scams, managing debts, building your credit score, and much more! Each week's session has a different topic. This month, the topics will be Understanding Credit on May 5th and Basics of Banking on May 12th. Both sessions will take place from 6:00pm-8:00pm on Thursday night.
Chhaya will also be hosting a free General Legal Clinic on Wednesday May 11th from 5:00pm-7:00pm, and a free Energy Efficiency Workshop on Monday May 23rd from 5:30pm-7:00pm. Both events will provide helpful information from professionals looking to save you money.
All of these events will be held at Chhaya's offices at 37-43 77th Street, 2nd Floor, Jackson Heights, NY 11372. To schedule an appointment or to ask for more information, contact William Spisak at 718-478-3848. For more information regarding the Energy Efficiency Workshop in particular, contact Silky Misra at 718-478-3848, ext. 25 or email her at silky@chhayacdc.org.
Lastly, renters can find help through Chhaya as well. A Renters Rights and Benefits Workshop will be held on Tuesday May 17th from 6:00pm-8:00pm at the Chhaya offices. To schedule an appointment for this particular workshop, contact Rasel Rahman at 718-478-3848 ext. 23 or email him at rasel@chhaya.org.
Cypress Hills Local Development Corporation
The Cypress Hills Local Development Corporation will be holding free tenant counseling sessions every Tuesday from 2:00pm-5:00pm at 2966 Fulton Avenue (between Cleveland and Elton), Brooklyn, NY. The counseling sessions will provide Section 8 re-certification help, one-on-one eviction prevention support, discussions on tenant's rights with attorney Lee McRae, and more. For more information, contact the organization via email (webmaster@cypresshills.org) or phone (718-647-2800).
Housing Action Council
This month the Housing Action Council will be holding a workshop on The Home Buying Process. HAC's experts will walk through the crucial steps all potential homebuyers must take if they hope to obtain the right home for them, at the right price. This workshop is the second in a three-part series which runs monthly. Attending each of the three different workshops is necessary for enrollment in HAC's First Home Club. The workshops can be attended in any order, so it's okay to hop in with Workshop #2! The workshop will be held in The Warner Library at 121 North Broadway, Tarrytown, NY 10591, from 6:30pm-9:00pm on May 23rd. Enrollment is limited, so register ahead of time! For further information or registration, call 914-332-4144 or email hac@affordablehomes.org.
Long Island Housing Partnership
LIHP offers one-on-one first-time homebuyer counseling every weekday this month. Appointments are available Monday to Friday, at 10 am, 1 pm and 3 pm, and generally take between one to two hours. These counseling appointments are available in both English and Spanish, as well as in more than 150 other languages upon request. (These appointments may require more time to schedule.) If you would like an appointment, please call the Long Island Housing Partnership at 631-435-4710.
IMPACCT Brooklyn
IMPACCT Brooklyn will hold its monthly legal clinic on Wednesday May 4th from 6:00pm-8:00pm, providing the opportunity to speak with a lawyer regarding upcoming or potential housing court cases. In addition, tenant help events will be held on the first and third Saturdays of the month: the 7th and 21st, respectively. Each tenant help event runs from 10:00am-1:00pm, and supplies general advice for renters. Anyone who can't make these scheduled events can still walk in at any time between 10:00am-3:00pm each Wednesday and Friday of the month for general tenant counseling. No appointment is necessary! All of these events will be held at 1124 Fulton Street, between Classon and Franklin Avenues.
Events will also be held at the Community Room at 226 Lefferts Place at the corner of Franklin Avenue in Bed Stuy. On Thursday May 19th, IMPACCT's monthly Tenant's Rights Workshop and Legal Clinic will provide renters another opportunity to meet with lawyers and receive free legal counsel. An appointment is necessary to meet one-on-one with a lawyer. In addition, free tax prep sessions will be held each Saturday of the month except for the 12th, from 10am to 1pm. Individuals making less than $25,000/year, or all others making less than $55,000/year, can have their 2016 tax forms prepared for free!
All IMPACCT events require a prior appointment, barring the exception of the Wednesday and Friday walk-in hours and the free tax prep Saturdays. For location, appointments, or further information, call 718-522-2613 x032 or visit the website at http://impacctbk.org.
NEIGHBORS HELPING NEIGHBORS (NHN)
Neighbors Helping Neighbors will be holding a two-session homebuyer seminar across two Saturdays this month: May 14th and 21st. The seminar will cover a range of important topics for first-time homebuyers, including tips on when to buy and how to save up. One-on-one counseling appointments can be scheduled after the seminar to help out with the next steps on the path to purchasing a home. Each session will run from 9:30 AM-1:30 PM at the NHN offices, located at 621 DeGraw Street, Brooklyn, NY 11217.
The two-session seminar costs $40, and must be signed up for in advance. A sign-up form is available on http://nhnhome.org/, which must be printed out and mailed or brought to the office in person at least a week in advance of the first session. For further questions, NHN can be contacted at 718-237-2017.