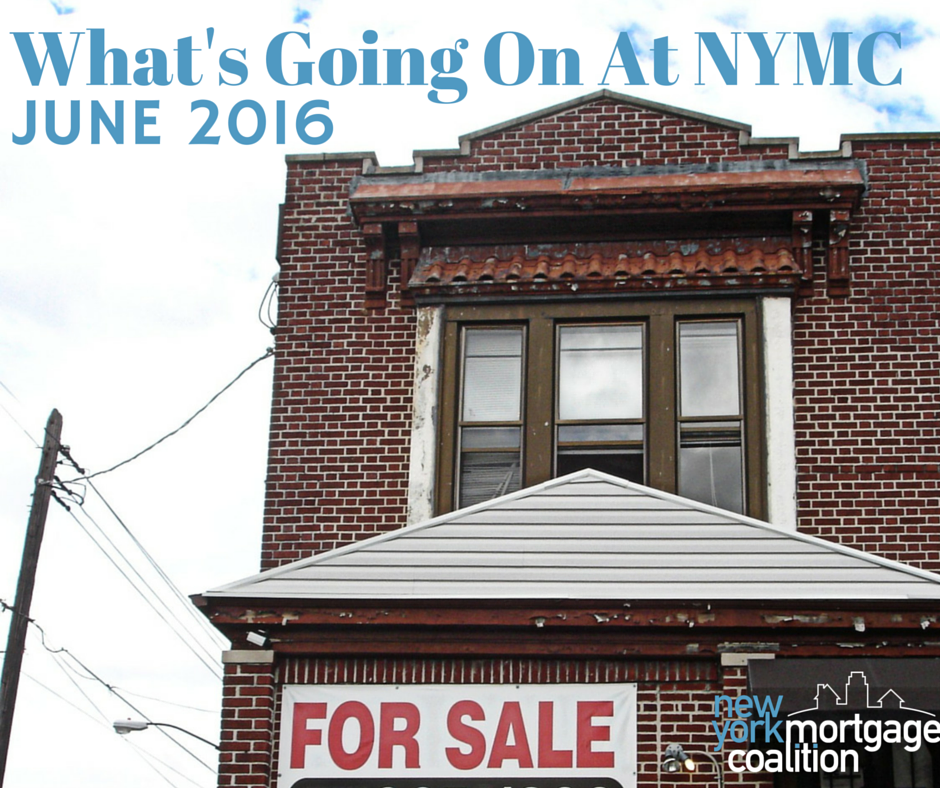 This June, NYMC celebrates National Homeownership Month. Our members will be holding first time homebuyer seminars and workshops to help you get started on the path towards achieving the goal of homeownership. NYMC is also participating in eHome America's Millennial homebuyers campaign to spread the word about online homebuyer education through social media. Sign up today for the new and improved course at http://ehomeamerica.org/nymc.
Asian Americans for Equality (AAFE)
AAFE will hold a first-time homebuyer orientation workshop every Wednesday from 3:00pm-5:00pm, at both their Manhattan and Queens office locations. Walk-ins are accepted, so no prior appointment is necessary! Stop by and learn about the home buying process. Contact Eddie Wong via email (eddie_wong@aafecdf.org) or phone (212-964-2288 ext. 2132) for more information.
Community Development Corporation of Long Island (CDCLI)
CDC Long Island will be holding a First Time Home Buyer Orientation Sessions early this month. This free session will provide potential homebuyers with the valuable opportunity to learn more about CDCLI's programs and to schedule a one-on-one meeting with a certified Housing Educator. The Orientation event will be held on Tuesday, June 21st at 2100 Middle Country Road Centereach, NY 11720, and on Wednesday, June 29th at 333 North Main Street, Freeport, NY 11520. Both orientations run from 6:30 pm to 8:30 pm.
Chhaya CDC
Chhaya will be hosting a free General Legal Clinic on Wednesday June 8th from 5:00pm-7:00pm at their offices at 37-43 77th Street, 2nd Floor, Jackson Heights, NY 11372. To schedule an appointment or to ask for more information, contact William Spisak at 718-478-3848.
Join Chhaya a free Energy Efficiency Workshop to understand home energy upgrades and the benefits of the Energy Efficiency Program. The workshop will be held Tuesday, June 28 at 6:00-8:30 pm at Queens Library, 89-11 Merrick Blvd, Jamaica, NY 11432. For more information, contact Silky Misra at 718-478-3848, ext. 25 or email her at silky@chhayacdc.org.
Renters can find help through Chhaya as well. A Renters Rights and Benefits Workshop will be held on Tuesday June 21st from 6:00pm-8:00pm at the Chhaya offices. To schedule an appointment for this particular workshop, contact Rasel Rahman at 718-478-3848 ext. 23 or email him at rasel@chhaya.org.
Housing Action Council
This month the Housing Action Council will be holding a workshop on The Process of Obtaining and Keeping a Home. HAC's experts will walk through the crucial steps all potential homebuyers must take if they hope to obtain the right home for them, at the right price. This workshop is the third in a three-part series which runs monthly. Attending each of the three different workshops is necessary for enrollment in HAC's First Home Club. The workshops can be attended in any order, so it's okay to hop in with Workshop #3! The workshop will be held in The Warner Library at 121 North Broadway, Tarrytown, NY 10591, from 6:30pm-9:00pm on May 23rd. Enrollment is limited, so register ahead of time! For further information or registration, call 914-332-4144 or email hac@affordablehomes.org.
Long Island Housing Partnership
LIHP offers one-on-one first-time homebuyer counseling every weekday this month. Appointments are available Monday to Friday, at 10 am, 1 pm and 3 pm, and generally take between one to two hours. These counseling appointments are available in both English and Spanish, as well as in more than 150 other languages upon request. (These appointments may require more time to schedule.) If you would like an appointment, please call the Long Island Housing Partnership at 631-435-4710.
IMPACCT Brooklyn
Do you need to get your credit in order? IMPACCT Brooklyn will be holding a free personal finance course this June. The class will help attendees improve their credit and apply for housing lotteries, rentals, residential homes, co-ops, and condos. The four-class series runs June 20th, 21st, 22nd, and 23rd at 6:30-8:30 pm each day at IMPACCT's offices at 1000 Dean Street, Suite 420, Brooklyn, NY 11238. To register, call 718-522-2613.
NEIGHBORS HELPING NEIGHBORS (NHN)
Neighbors Helping Neighbors will be holding a two-session homebuyer seminar across two Saturdays this month: June 11th and 18th. The seminar will cover a range of important topics for first-time homebuyers, including tips on when to buy and how to save up. One-on-one counseling appointments can be scheduled after the seminar to help out with the next steps on the path to purchasing a home. Each session will run from 9:30 AM-1:30 PM at the NHN offices, located at 621 DeGraw Street, Brooklyn, NY 11217.
The two-session seminar costs $40, and must be signed up for in advance. A sign-up form is available on http://nhnhome.org/, which must be printed out and mailed or brought to the office in person at least a week in advance of the first session. For further questions, NHN can be contacted at 718-237-2017.