For Homeowners
Homeownership Counseling and Home Buyer Education Program
The New York Mortgage Coalition's homeownership counseling program gives potential homeowners access to 11 nonprofit, HUD-Approved housing counseling agencies and lenders that offer competitive, fixed-rate mortgages which may include closing cost grants and downpayment assistance subsidies.
NYMC housing counseling agencies provide home buyer education – both financial and housing education – year-round in all five boroughs as well as Suffolk County, Nassau County, Westchester County, Orange County, Putnam county, Rockland County and Dutchess County.
What are the benefits?
Through the homeownership and home buyer education workshops and one-on-one counseling of our housing counseling agencies, you will learn life-long financial management skills that enable you to establish credit, maintain a personal budget, qualify for a mortgage, and eventually purchase a home. You will learn if you are eligible for particular grants and subsidies and you will gain an advocate who will prepare you for homeownership.
What is the process?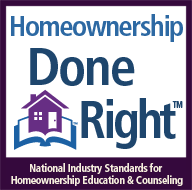 Your journey toward homeownership begins with you selecting to work with one of our non-profit housing counseling agencies. The agency you choose will explain the education and counseling process and get you started on your path to homeownership.
Your counseling agency will invite you to attend a homeownership education class where your instructor will cover a number of topics including how to prepare for homeownership, how to shop for a home, how to obtain a mortgage and what life as a homeowner is like. You will learn about budgeting, saving, establishing credit and home maintenance.
You are then invited to continue your home buying education through one-on-one counseling, which involves as much as 12 hours of additional learning.
These sessions, conducted by NYMC's experienced counselors, provide you with the opportunity to take a more in depth look at your financial situation by reviewing your credit history, assessing affordability, and developing a comprehensive budget and savings plan.
Did you know?
Besides English, our agencies offer counseling in Spanish, Cantonese, Korean, Mandarin, Bangla and Urdu.
Each NYMC housing group customizes its services to meet the needs of its local community based on language, culture, income levels, and housing inventory.
All NYMC counseling is provided at no cost to our clients. Particular counseling agencies may charge a small fee for education and credit reports. Please discuss this with the agency you choose.
If you are interested in learning more about our Homeownership Program, please contact us or one of our Housing Counseling Agencies.