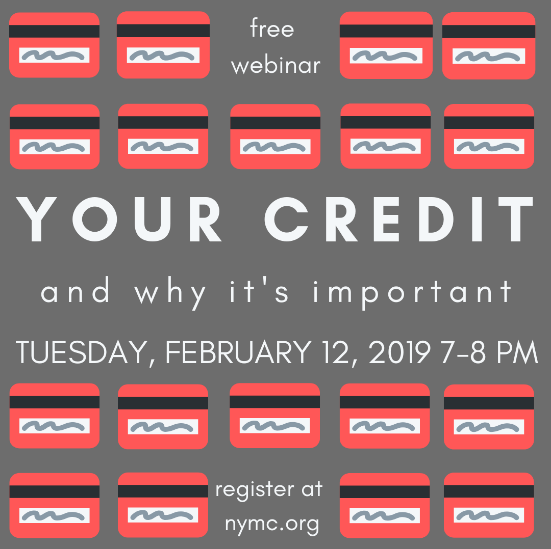 Financial Fitness Webinar Series: Your Credit & Why It Is Important

Tuesday, February 12, 2019
7:00 PM - 8:00 PM EDT
Learn about what credit is, understanding credit terminology, and the importance of building a better credit record.
Presenter: Rev. Dr. Charles Butler, Vice President of Equitable Development, Harlem Congregations for Community Improvement, Inc.  
Webinar Frequently Asked Questions
What is a webinar?
A webinar is an interactive web  seminar delivered online. A webinar typically consists of one or more presenters, a moderator who may also be a presenter, and an online audience.
How do I sign up for a webinar?
You can sign up with the registration link at any time before the webinar starts. The registration link is posted on our website, social media accounts, and newsletter.
What kind of tech equipment do I need?
All you need is a computer, tablet, or smartphone with an Internet connection and speakers. You will need to download the free GoToWebinar app from the Apple App Store or Google Play to view the webinar on your tablet or smartphone. This will allow you to see the presentation, hear the presenters, and interact with the presenters.
Does it cost anything to participate?
There is no cost to attend our webinars. Our webinars are provided to you for free!
I can't attend the live webinar date. Will the webinar be repeated? Is there any way to watch it later?
The webinar will not be repeated, but you can view a recording of the webinar after it has occurred by simply following the registration link once the time and date for the webinar has passed. If you register for the webinar, the recording link will be emailed to you the day after the webinar.
How do I ask a question during the webinar? Will my question be answered during the presentation?
During each webinar you can ask a question by typing it into the chat box that appears on your webinar screen. As many questions as possible will be answered during the Question and Answer period scheduled as part of each webinar.
How can I get information on future webinars?
Future webinars are posted on our website and newsletter as soon as they are scheduled and are also announced via our social media accounts. You can follow us on Instagram, Twitter, and Facebook to get notified about all of our upcoming events.